$8,793 Worth of [Art]
Pau Waelder
2014
165 pages, ebook (PDF), 768 x 1024 pixels
978-1-907829-06-2
Edition of 100, each numbered & signed
First 25 copies £2.00, then price rises £0.50 per 25 sold.
Current price £2.00
Published by Merkske
Sedition is an online platform that sells "digital editions" of artworks by a growing number of artists, in two categories: a "curated" section and an "open platform". Each artwork is sold in a limited series of copies (from several hundred to several thousand) at prices between 6 and 100 dollars, although some editions reach higher amounts.
When a collector acquires an artwork at Sedition, he can access a digital copy on his iPhone, iPad, computer or TV set. The file is permanently stored at Sedition's server (the "Vault"), the collector being able to view the artwork or re-sell it if the edition is sold out and becomes available at the online platform's "Trade" section. The only document stating the ownership of the artwork is a "digital certificate of authenticity" displayed as an image on the collector's profile page. A preview of this digital certificate is also displayed on the page of each artwork being sold on the website. The preview and the real certificate are, in appearance, indistinguishable.
Between 30th October and 16th November 2013, I copied the preview certificates of all artworks being sold in the "curated" section of Sedition. These "false" certificates display my name as owner and a fake edition number, just as if I had bought them, although all I did was access the website. I added to these certificates several real certificates from artworks I bought on the platform.
$8.793 Worth of [Art] is a collection of 159 real and false certificates of authenticity. The title refers to the exact amount that would have been paid if all of the works had been bought as the certificates apparently attest. It is the result of a very simple "hacking" of the website, that includes glitches and alterations: some artist's signatures are missing, and at some point the website administrator eliminated edition numbers in the previews. These documents open up a questioning of the notion of ownership and authenticity in the digital era, as well as the traditional methods of the art market.
More information:
Buy your copy at Merkske
Interview by Régine Debatty at We Make Money Not Art
Interview by Filippo Lorenzin in L'identità aumentata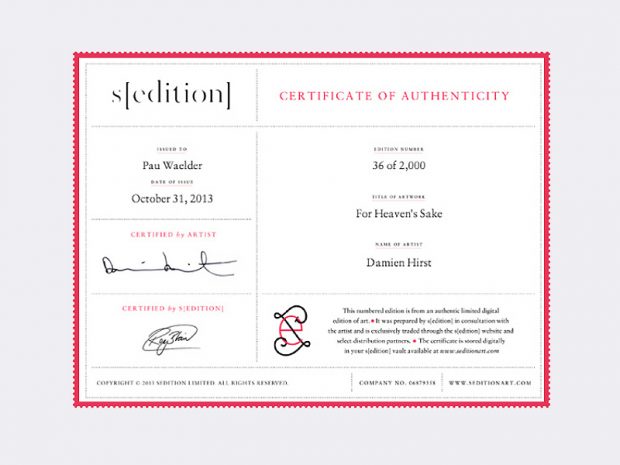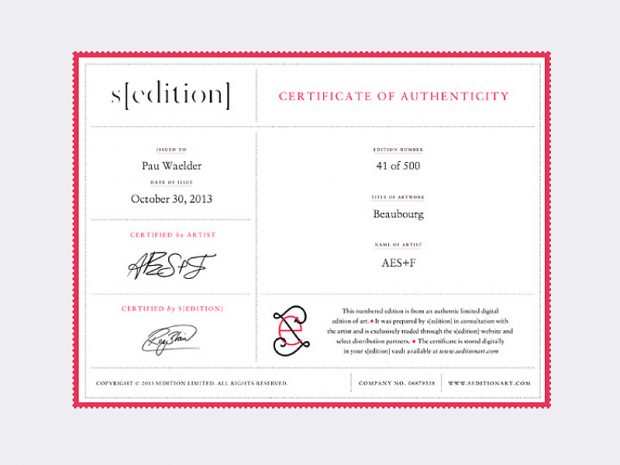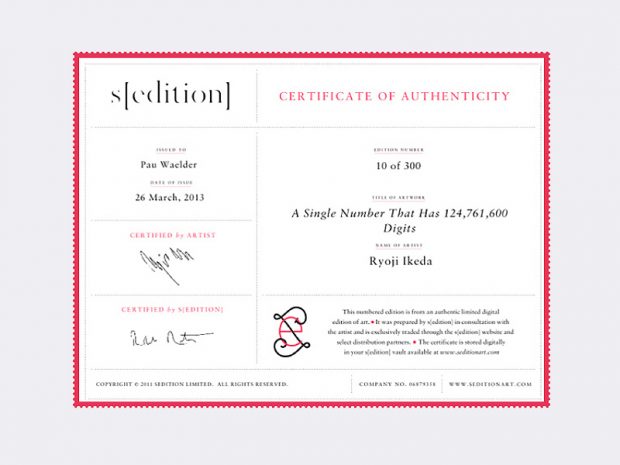 $8,793 Worth of [Art]
Pau Waelder
2014
165 páginas, ebook (PDF), 768 x 1024 píxels
978-1-907829-06-2
Edición de 100 ejemplares, numerados y firmados
Primeras 25 copias £2.00, el precio sube £0.50 cada 25 ejemplares vendidos.
Publicado por Merkske
Sedition es una plataforma online que vende "ediciones digitales" de obras de arte de un número creciente de artistas, en dos categorías: una sección "comisariada" y una "plataforma abierta". Cada obra de arte se vende en una serie limitada de copias (de varios cientos a varios miles) a precios entre los 6 y los 100 dólares, aunque algunas ediciones alcanzan precios más elevados.
Cuando un coleccionista compra una obra en Sedition, puede acceder a una copia digital en su iPhone, iPad, ordenador o TV. El archivo se guarda permanentemente en el servidor de Sedition (llamado "Vault"), lo cual permite al coleccionista ver la obra o revenderla si la edición se agota y está por tanto disponible en la sección "Trade" de la plataforma. El único documento que atestigua la propiedad de la obra es un "certificado digital de autenticidad" que se muestra como una imagen en la página personal del coleccionista. Una vista previa de este certificado digital puede verse en la página de cada obra a la venta en el sitio web. La vista previa y el certificado real son, en apariencia, indiscernibles.
Entre el 30 de octubre y el 16 de noviembre de 2013, copié las vistas previas de los certificados de todas las obras que se vendían entonces en la sección "comisariada" de Sedition. Estos certificados "falsos" muestran mi nombre como propietario de la obra junto a un número de edición falso, como si hubiera comprado la obra, aunque lo único que hice fue acceder al sitio web. Añadí a estos certificados diversos certificados reales de obras de arte que he comprado en Sedition.
$8.793 Worth of [Art] es una colección de 159 certificados de autenticidad, reales y falsos. El título hace referencia a la cantidad exacta que se habría pagado si todas las obras se hubiesen comprado, como aparentemente indican los certificados. Este es el resultado de un proceso muy sencillo de "hacking" que incluye errores y alteraciones: faltan las firmas de algunos artistas, y a partir de un determinado momento el administrador del sitio web eliminó los números de edición en las vistas previas. Estos documentos abren un cuestionamiento de la noción de propiedad y autenticidad en la era digital, así como de los métodos tradicionales del mercado del arte.
Más información:
Compra tu ejemplar en Merkske
Entrevista de Régine Debatty en We Make Money Not Art (inglés)
Entrevista de Filippo Lorenzin en L'identità aumentata (inglés)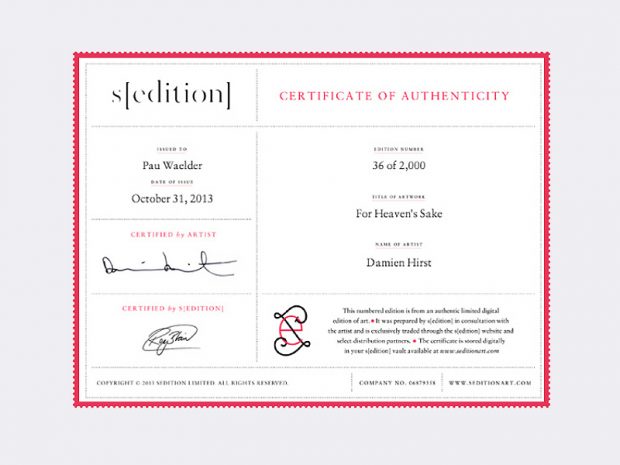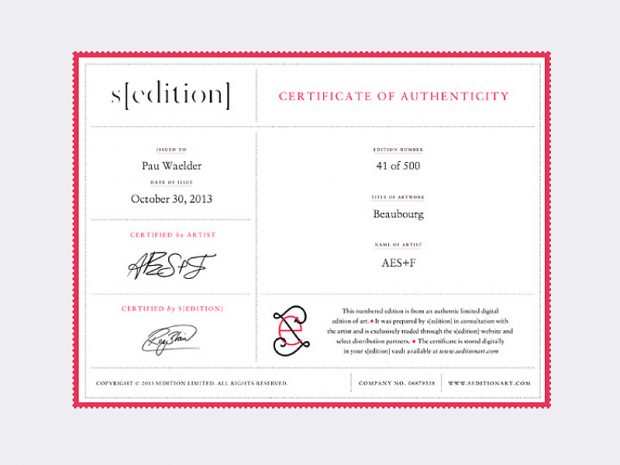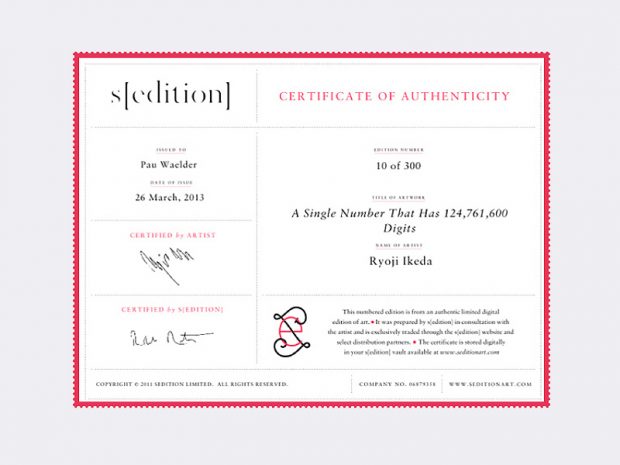 $8,793 Worth of [Art]
Pau Waelder
2014
165 pàgines, ebook (PDF), 768 x 1024 píxels
978-1-907829-06-2
Edició de 100 exemplars, numerats i signats
Primeres 25 copies £2.00, el preu puja £0.50 cada 25 còpies venudes.
Publicat per Merkske
Sedition és una plataforma online que ven "edicions digitals" d'obres d'art d'un nombre creixent d'artistes, en dues categories: una secció "comissariada" i una "plataforma oberta". Cada obra d'art es ven en una sèrie limitada de còpies (de diversos centenars a diversos milers) a preus entre els 6 i els 100 dòlars, encara que algunes edicions aconsegueixen preus més elevats.
Quan un col·leccionista compra una obra a Sedition, pot accedir a una còpia digital al seu iPhone, iPad, ordinador o TV. L'arxiu es guarda permanentment en el servidor de Sedition (anomenat "Vault"), la qual cosa permet al col·leccionista veure l'obra o revendre-la si l'edició s'esgota i està per tant disponible en la secció "Trade" de la plataforma. L'únic document que testifica la propietat de l'obra és un "certificat digital d'autenticitat" que es mostra com una imatge a la pàgina personal del col·leccionista. Una vista prèvia d'aquest certificat digital pot veure's a la pàgina de cada obra a la venda en el lloc web. La vista prèvia i el certificat real són, en aparença, indiscernibles.
Entre el 30 d'octubre i el 16 de novembre de 2013, vaig copiar les vistes prèvies dels certificats de totes les obres que es venien llavors en la secció "comissariada" de Sedition. Aquests certificats "falsos" mostren el meu nom com a propietari de l'obra al costat d'un nombre d'edició fals, com si hagués comprat l'obra, encara que l'única cosa que vaig fer va ser accedir al lloc web. Vaig afegir a aquests certificats diversos certificats reals d'obres d'art que he comprat a Sedition.
$8.793 Worth of [Art] és una col·lecció de 159 certificats d'autenticitat, reals i falsos. El títol fa referència a la quantitat exacta que s'hauria pagat si totes les obres s'haguessin comprat, com aparentment indiquen els certificats. Est és el resultat d'un procés molt senzill de "hacking" que inclou errors i alteracions: falten les signatures d'alguns artistes, i a partir d'un determinat moment l'administrador del lloc web va eliminar els nombres d'edició en les vistes prèvies. Aquests documents obren un qüestionament de la noció de propietat i autenticitat en l'era digital, així com dels mètodes tradicionals del mercat de l'art.
Més informació:
Compra el teu exemplar a Merkske
Entrevista de Régine Debatty a We Make Money Not Art  (anglès)
Entrevista de Filippo Lorenzin a L'identità aumentata (anglès)