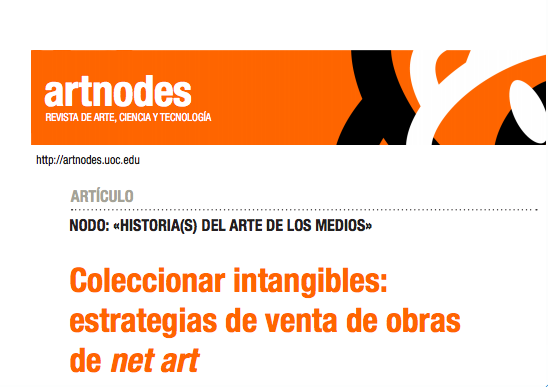 Node nº13 of the peer-review journal on art, science and technology  Artnodes (Universitat Oberta de Catalunya), on "Media Art history/stories", includes my article on strategies for selling net art, which is part of my current doctoral research.
Abstract
Since its emergence, internet art has adopted a critical stance towards the traditional art world and has marked a distance from the market and galleries. However, over the last decade, many net artists have sought to sell or obtain some financial return for their work, whether through initiatives of their own or in cooperation with galleries and collectors. In regard to works freely accessible on the Internet – which only exist in the exchange of data between two machines – I examine several sales strategies developed by net artists, gallery owners/managers and other groups to overcome the limitations imposed by traditional art market approaches based on scarcity and exclusivity. The examples discussed ultimately lead us to consider possible alternatives to art market dynamics that more closely reflect current artistic practices.
Keywords
art; internet; net art; contemporary art; digital art; collecting
Full Text: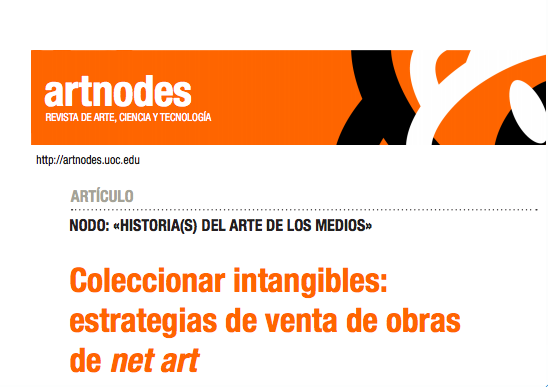 El nodo nº13 de la revista académica de arte,ciencia y tecnología Artnodes (Universitat Oberta de Catalunya), dedicado a "las(s) historia(s) del arte de los medios", incluye mi artículo acerca de las estrategias de venta de obras de net art, que forma parte de mi presente investigación de tesis doctoral.
Resumen
Desde sus inicios, el net art ha adoptado una postura crítica hacia las estructuras tradicionales del mundo del arte y se ha mantenido alejado del mercado y el contexto de las galerías. No obstante, a lo largo de la última década, numerosos artistas han buscado modelos para vender sus obras u obtener una rentabilidad económica de estas, por medio de iniciativas propias o en colaboración con galerías y coleccionistas. En este artículo se examinan diversas estrategias de venta de obras de net art desarrolladas por artistas, galeristas y colectivos que han afrontado las limitaciones de los métodos tradicionales del mercado del arte, basados en la escasez y la exclusividad, ante un tipo de obras libremente accesibles en internet, que existen tan solo en el intercambio de datos entre dos máquinas. Los ejemplos analizados permiten, en última instancia, examinar las dinámicas actuales del mercado del arte, así como vislumbrar posibles alternativas, más cercanas a las formas en que se reciben y se consumen las prácticas artísticas actuales.
Palabras clave
mercado del arte; internet; net art; arte contemporáneo; arte digital; coleccionismo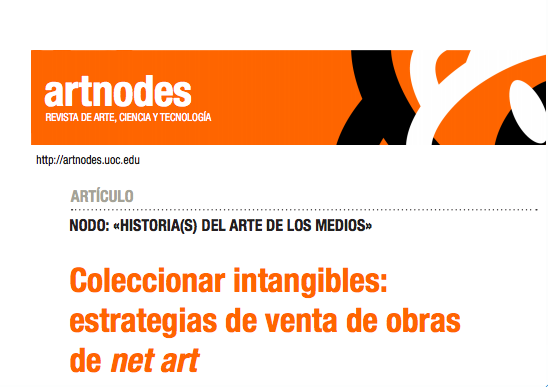 El node nº13 de la revista acadèmica d'art, ciència i tecnologia  Artnodes (Universitat Oberta de Catalunya), dedicat a "la Història de l'Art dels Mitjans", inclou el meu article sobre estratègies de venda d'obres de net art, que forma part de la meva recerca de tesi doctoral.
Resum
Des dels seus inicis, l'art en xarxa (net art) ha adoptat una postura crítica envers les estructures tradicionals del món de l'art i s'ha mantingut allunyat del mercat i el context de les galeries. No obstant això, al llarg de l'última dècada nombrosos artistes han buscat models per a vendre les seves obres o obtenir-ne una rendibilitat econòmica, per mitjà d'iniciatives pròpies o en col·laboració amb galeries i col·leccionistes. En aquest article s'examinen diverses estratègies de venda d'obres d'art en xarxa desenvolupades per artistes, galeristes i col·lectius que han afrontat les limitacions dels mètodes tradicionals del mercat de l'art, basats en l'escassetat i l'exclusivitat, davant un tipus d'obres lliurement accessibles a internet, que existeixen tan sols en l'intercanvi de dades entre dues màquines. Els exemples analitzats permeten, en última instància, examinar les dinàmiques actuals del mercat de l'art, i també albirar possibles alternatives, més properes a les maneres en què es reben i es consumeixen les pràctiques artístiques actuals.
Paraules clau
mercat de l'art; internet; art en xarxa; art contemporani; art digital; col•leccionisme
Text complet: