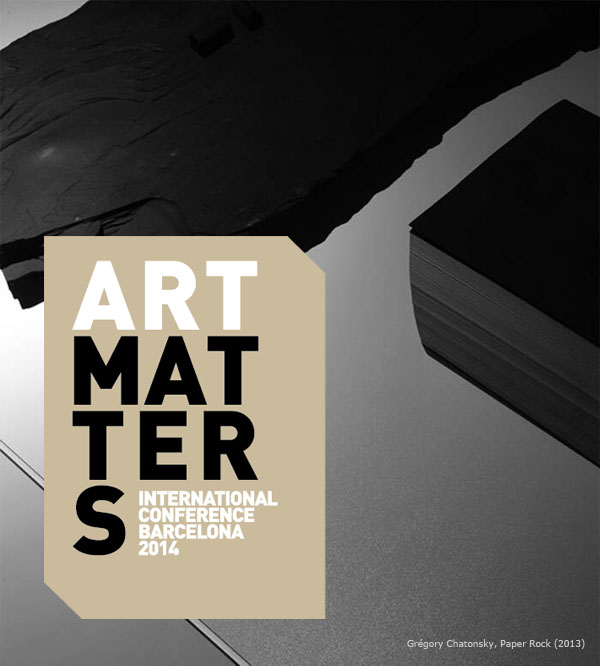 I am part of the Organizing Committee of the Art Matters International Conference 2014, supoorted by the Universitat Oberta de Catalunya (UOC), Universitat de Barcelona (UB) and Hangar. I have also designed the logo, promotional material and website. As the main image of the conference I have chosen Grégory Chatonsky's Paper Rock (2013), an installation that consists of a stone and a book containing the digital description of the stone, which illustrates the concept of materiality.
Art Matters International Conference 2014 aims to give space for those researches that, coming from the academy and the professional practice, rebuild the relation between art and its materiality: contributions focused on theoretical, methodological and epistemological reconsiderations and, specially, empirical studies centered on art routines and infrastructures.
Perspectives such as Media Archaeology, the Actor-Network Theory or the New Materialisms contribute decisively to the possibility of blurring or even erasing preconceived ontological distinctions –inoperative today-, and traditionally supported by the framework of our modernity. We are alluding to established dichotomies such as subject/object, matter/discourse, theory/practice, social/technological, expert/non-expert that lay out important onto-epistemic challenges to overcome. The interest of the congress is precisely to connect these new perspectives with the tradition of history, theory and art practice, starting always from both the reflection and the experience with the routines, the infrastructures and the art fields.
Problems to discuss:
Researches about art infrastructures: museums, art galleries, centres of production and investigation, archives, exhibition and distribution displays, art market dynamics.
Investigations about objects and artistic practices: new materials, technologies inside the art field, production processes, distribution, conservation and preservation of the art and the media, etc.
Other art histories and narratives: "minor" or divergent histories, linear narratives, emergency of novelties, relational temporality and spatiality, forgotten geographical areas, etc.
Onto-epistemic and methodological art frameworks: human and non-human agency, relations between practice and theory, experts and non-experts, trans/inter/meta/non-disciplinarity, etc.
ART MATTERS INTERNATIONAL CONFERENCE 2014
UB, UOC, Hangar
11-12 de Diciembre de 2014.
Facultad de Historia del Arte de la Universitat de Barcelona
c/ Montalegre 6-8. CP.08001 Barcelona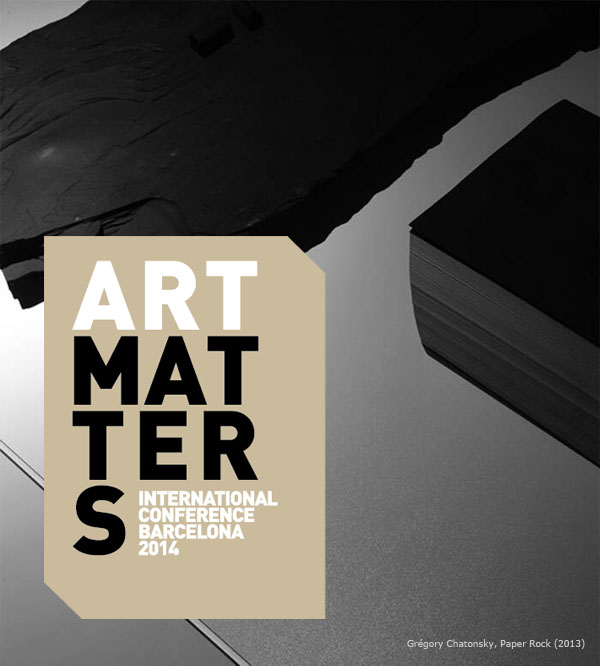 Formo parte del comité organizador del Congreso Internacional Art Matters 2014, promovido por la Universitat Oberta de Catalunya (UOC), Universitat de Barcelona (UB) y Hangar. También he diseñado el logotipo del congreso, elementos de difusión y sitio web. Para la imagen del congreso he escogido la obra de Grégory Chatonsky Paper Rock (2013), una instalación que consiste en una piedra y un libro que contiene la descripción digital de la piedra, ejemplo ilustrativo del concepto de materialidad.
El congreso Art Matters pretende dar cabida a aquellos trabajos de investigación que, desde la academia y desde la práctica profesional, reconfiguren la relación entre el arte y su materialidad: contribuciones centradas en replanteamientos teóricos, metodológicos y epistemológicos y, especialmente, estudios de marcado carácter empírico sobre o desde las prácticas e infraestructuras del arte.
Perspectivas como la Arqueología de los Medios, la Teoría del Actor-Red, o los llamados Nuevos Materialismos contribuyen decisivamente a la difuminación o incluso eliminación de algunas distinciones ontológicas preconcebidas -hoy inoperativas- y largamente sustentadas en el entramado de nuestra modernidad. Dicotomías bien instaladas como sujeto/objeto, materia/discurso, teoría/práctica, social/tecnológico, experto/no experto plantean hoy importantes retos onto-epistémicos a superar. El interés del presente congreso es precisamente conectar estas nuevas perspectivas con la tradición de la historia, teoría y práctica del arte, partiendo siempre desde la reflexión y el trabajo con las prácticas, infraestructuras y contextos del arte.
Temas a tratar:
Estudios sobre infraestructuras del arte: museos, galerías, centros de producción e investigación, archivos, formatos de exposición y distribución, dinámicas del mercado del arte, etc…
Investigaciones sobre objetos y prácticas artísticas: nuevos materiales, tecnologías en el arte, procesos de producción, distribución, conservación y preservación del arte y los medios, etc…
Otras historias y narrativas del arte: historias "menores" o divergentes, narrativas no lineales, emergencia de novedades, temporalidad y espacialidad relacional, zonas geográficas olvidadas, etc…
Marcos onto-epistémicos y metodológicos del arte: agencia humana y no humana, relaciones entre práctica y teoría, sujetos y objetos, expertos y no expertos, trans/inter/meta/in/a-disciplinariedad, etc…
ART MATTERS INTERNATIONAL CONFERENCE 2014
UB, UOC, Hangar
11-12 de Diciembre de 2014.
Facultad de Historia del Arte de la Universitat de Barcelona
c/ Montalegre 6-8. CP.08001 Barcelona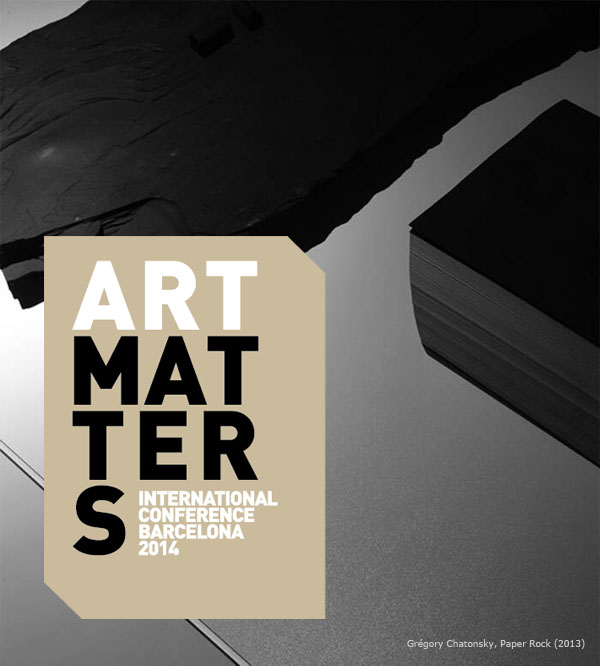 Formo part del comité organitzador del Congrés Internacional Art Matters 2014, promogut per la Universitat Oberta de Catalunya (UOC), Universitat de Barcelona (UB) i Hangar. També he dissenyat el logotip del congrés, elements de difusió i lloc web. Com a imatge principal del congrés he escollit l'obra de Grégory Chatonsky Paper Rock (2013), una instal·lació que consisteix en una pedra i un llibre que conté la descripció digital de la pedra, exemple il·lustratiu del concepte de materialitat.
El congrés Art Matters pretén donar cabuda a aquells treballs de recerca que, des de l'acadèmia i des de la pràctica professional, reconfigurin la relació entre l'art i la seva materialitat: contribucions centrades en replantejaments teòrics, metodològics i epistemològics i, especialment, estudis de marcat caràcter empíric sobre o des de les pràctiques i infraestructures de l'art.
Perspectives com l'Arqueologia dels mitjans, la Teoria de l'Actor-Xarxa , o els anomenats Nous materialismes contribueixen decisivament a la difuminació o fins i tot eliminació d'algunes distincions ontològiques preconcebudes -avui inoperatives- i llargament sustentades en l'entramat de la nostra modernitat. Dicotomies ben instal·lades com subjecte/objecte, matèria/discurs, teoria/pràctica, social/tecnològic, expert/no expert plantegen avui importants reptes onto-epistèmics a superar. L'interès d'aquest congrés és precisament connectar aquestes noves perspectives amb la tradició de la història, teoria i pràctica de l'art, partint sempre des de la reflexió i el treball amb les pràctiques, infraestructures i contextos de l'art.
Temes a tractar:
Estudis sobre infraestructures de l'art: museus, galeries, centres de producció i investigació, arxius, formats d'exposició i distribució, dinàmiques del mercat de l'art, etc.
Investigacions sobre objectes i pràctiques artístiques: nous materials, tecnologies en l'art, processos de producció, distribució, conservació i preservació de l'art i els mitjans, etc.
Altres històries i narratives de l'art: històries "menors" o divergents, narratives no lineals, emergència de novetats, temporalitat i espacialitat relacional, zones geogràfiques oblidades, etc.
Marcs onto-epistèmics i metodològics de l'art: agència humana i no humana, relacions entre pràctica i teoria, subjectes i objectes, experts i no experts, trans/inter/meta/in/a-disciplinarietat, etc.
ART MATTERS INTERNATIONAL CONFERENCE 2014
UB, UOC, Hangar
11-12 de Diciembre de 2014.
Facultad de Historia del Arte de la Universitat de Barcelona
c/ Montalegre 6-8. CP.08001 Barcelona