PERMEA MASTER'S DEGREE. EXPERIMENTAL PROGRAM IN MEDIATION AND EDUCATION THROUGH ART
Universitat de València
Course 2018-2019
Seminar on New Media Art, March 27-29
By invitation of Prof. Dr. Clara Boj, I have joined the staff of lecturers at PERMEA, a Master's Degree dedicated to provide educators and professionals in mediation at art museums the tools to address contemporary art dealing with participation, social change, interaction and new media.
My seminar is focused on new media art and offers students an introduction to the basic concepts and specificities in this wide range of artistic practices, as well as a theoretical and historical background. New media art is explored through case studies and practical exercises in which the students must elaborate a narrative around the exhibited objects, explain the processes carried out in each artwork and engage the participation of the audience.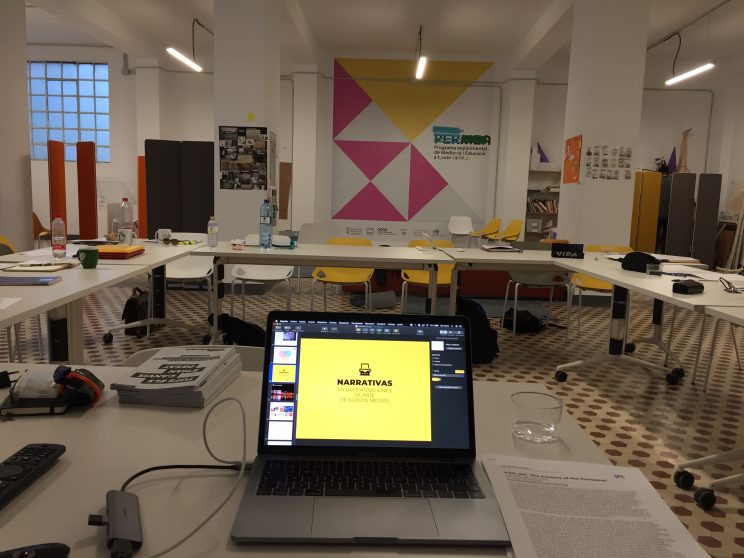 ABOUT PERMEA
The educational practices of museums and art centres are generating new, more open, plural and experimental institutional models and, in this context, mediation is understood not only as an interface between art and the public but also as an expanded field that encompasses the relations and knowledge that permeate the museum.
This leads us to rethink the type of training of a group of professionals who must be able to tackle multidisciplinary projects that involve agents and knowledge from diverse areas such as pedagogy, history and artistic creation, but also social and experimental sciences.
The Experimental Program in Mediation and Education through Art PERMEA is a training program that deals in a holistic and experimental way with the knowledge involved in the creation of artistic mediation projects, both in the institutional spaces of art and education and in other social contexts, from a critical, generating and empowering perspective, with agency and emancipation capacity.
PERMEA is situated in the institution itself and is understood as a training and cultural production device at the same time. Its development will rethink from the educational point of view the Consortium's own institutional practices through the different subjects of a study program that will offer students the tools to carry out mediation and education processes through art, in a reflexive and investigative way, but also as a project and grounded in concrete realities.