Artists : Martin John Callanan, Alix Desaubliaux, Lauren Lee McCarthy
Curators : Thierry Fournier and Pau Waelder
Participants : Franck Ancel, Flora Bousquet, Flore Baudry, Aina Coca, Alexandra Ehrlich Speiser, Sophie Fontanel, Will Fredo, Raquel Herrera, Azahara Juaneda, Margot Saint-Réal, Claire Valageas
www.selphish.me
Mécènes du sud Montpellier-Sète, May 20th to August 22nd, 2020
Produced by Mécènes du Sud Montpellier-Sète
With the support of Dicréam, Ministère de la Culture et de la Communication / CNC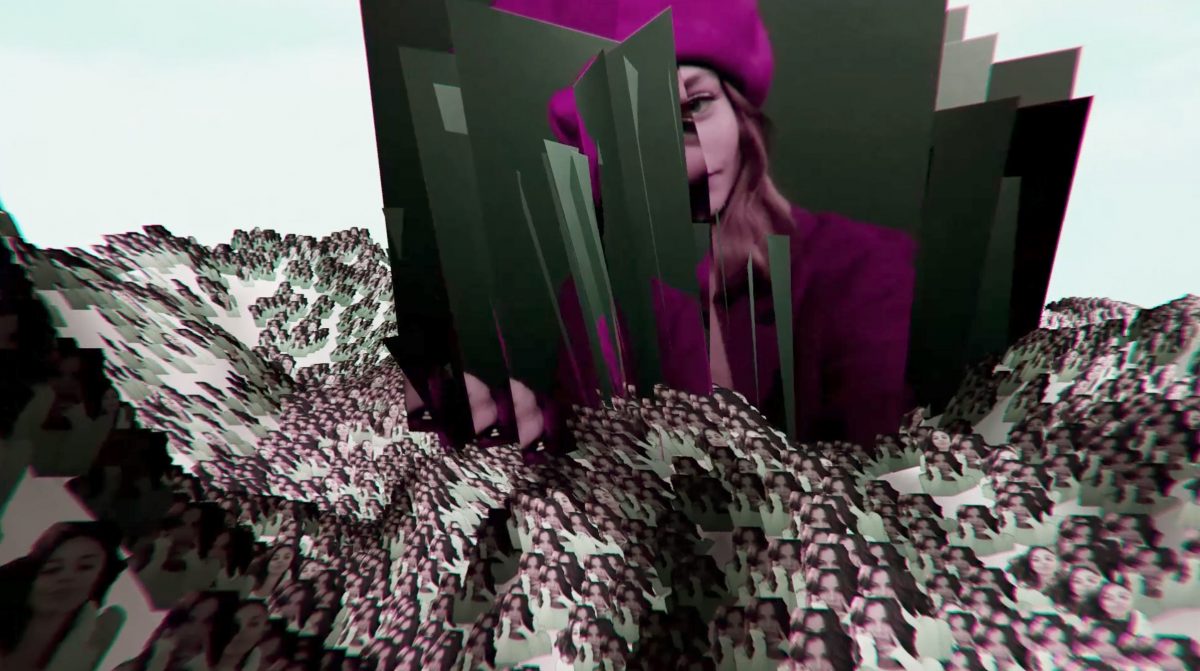 Selphish was initially presented on March 11th, 2020 with the original artworks of Martin John Callanan, Alix Desaubliaux, Lauren McCarthy and !Mediengruppe Bitnik. This setup is described in the catalogue, that can be found here. Following the end of the lockdown measures against COVID-19, the exhibition reopens with the three artworks on the ground floor only: Martin John Callanan, Alix Desaubliaux and Lauren McCarthy.
In our daily interaction with the world through our digital devices, it's all about us. When we are online, what we see is adapted to our personal profile, and what we share is tailored to present the best version of ourselves. The services we use want us to be extremely selfish. Inside our filter bubble, everyone shares our opinions and likes what we do or say, provided we also like what they post. Our online ego is therefore made of data, which build a portrait that can be quite apart from reality. Lawyer and researcher Bernard E. Harcourt coined the term "expository society" to refer the culture in which the constant need to expose the self facilitates a generalized surveillance, which does not even have to be imposed. How can an art exhibition question this "exhibition of the self" that takes place online? How can this project create a specific link between the exhibition space, the city, and social media? Can we reflect the short attention span of social media in the temporality of an art exhibition in a gallery?
Selphish addresses the exposition of the self online, through a series of artworks that are modified each week to form the portrait of an individual from the audience.
The exhibition consists of three artworks created for the exhibition by: Martin John Callanan, Alix Desaubliaux, and Lauren Lee McCarthy. All of the artists have already critically addressed the issues related to the exhibition of oneself on the internet; they create code-based and generative pieces, often in the form of installations. Eleven international participants have also agreed to have their Instagram profiles and Google traces read (sometimes in real time) by the artworks in the exhibition.
Each artwork interprets the profiles and traces of the participants, based on the data that its program finds, in the form of projections, screens, objects, prints, etc. The three installations change each week: the entire exhibition is dedicated simultaneously to a single participant. The title, Selphish, is a play on words between selfish and phishing (phishing is the act of improperly capturing a person's data in order to commit identity theft).
Download catalogue (English, PDF, 26Mb)
---
Martin John Callanan
We Wanted to Mean Something
Martin John Callanan explores the place of individuals within a wide range of systems. Composed of two screens and a printer, his piece We Wanted to Mean Something confronts Instagram posts by the exhibited participant with events that occurred on the same date. At regular intervals, the installation displays a new post on the first screen. It then searches for an event that occurred on the same day, displays it on the second screen, and prints it out. The paper prints gradually invade the floor of the room. The device amplifies and highlights the fundamentally public dimension of any participation on social networks, as well as the absurdity of the connection between private posts and societal events. Like many of the artist's previous artworks, We Wanted to Mean Something aims to make a totality visible but paradoxically it becomes unreachable, highlighting the limitations of human life.
Martin John Callanan's artwork has been exhibited and published internationally; he has recently been awarded the prestigious triennial Philip Leverhulme Prize in Visual Art 2014-17, for outstanding research, and in September 2015 awarded Alumnus of the Year for Excellence in Arts by Birmingham City University. Callanan currently works at the Bank of England.
Recent solo exhibitions include: Noshowspace, Horrach Moya, Casal Solleric, Baltic 39, and Or Gallery, Berlin. His work has been shown at, White Cube, Galerie Christian Ehrentraut, V2, Arts Santa Mònica, James Cohan Gallery, Es Baluard Modern and Contemporary Art Museum, Whitechapel Gallery, ZKM Karlsruhe, Ars Electronic Centre, ISEA, FutureEverything, Art Exchange, LIFT 2014, Battersea Arts Centre, Kunstverein Springhornhof, Riga Centre for New Media Culture, Whitstable Biennale, Imperial War Museum North, and published by Book Works.
Callanan graduated with a BA (Hons) in Visual Communication (Photography) from Birmingham City University in 2003 and an MFA in Fine Art Media from the Slade School of Fine Art, London in 2005, where he is currently on Research Leave from his role of Teaching Fellow in Fine Art Media, at Slade School of Fine Art, University College London and a member of Slade Centre for Electronic Media in Fine Art (SCEMFA). Callanan is a Fellow of the Royal Society of Arts (FRSA).
---
Alix Desaubliaux
Géographies
Alix Desaubliaux explores the evolution of the notion of identity through gaming and digital manufacturing. Her installation Géographies combines a series of eleven videos and eleven sculptures. Each video explores an imagined landscape, composed with images from the exhibited participant's posts. This artificial universe is projected in a very large format, in front of a series of small scale sculptures, 3D ceramic prints that evoke the islands created for each participant, placed on two Plexiglas trays. Géographies thus moves away from a literal representation of the images and texts of the posts, in order to evoke the dream or fantasy of a fictional environment exclusively composed of images of oneself, both monumental and ephemeral.
Artist-researcher at the Digital Research Unit at ENSBA, Lyon, Alix Desaubliaux's protean practice goes from 3D printing and ceramics, chemicals and electronics to video games creation. She explores the relationship that human build with virtual entities and materialise thoses exchanges through the set up of experimental laboritories. She opens up a dialogue between digital agents, mineral matter, DIY machines, video games characters and their background and mythology.
Her theoretical research explores problematics around materiality, environnements and behaviors in game, limits and experimental narration. She attempt to build connexions between digital and biology, making analogies between animals, ecosystems, zoopsychology and tries to have a speculative and poetic approach of some kind of digital ethology.
Her artistic work goes along several, collective research projects. The work group 3G (with Annie Abrahams and Pascale Barret) focuses on sharing energies and working along online in a performative and experimental approach while the research axis "Petit Jeu" takes the form of artistic, gaming and documentary residencies she hosts.
---
Lauren Lee McCarthy
Autocomplete
Lauren Lee McCarthy addresses the transformation of interpersonal relationships through technology. Her installation Autocomplete invites visitors to sit on a blue cyclorama, reminiscent of a photography set, with pastelcoloured furniture reminiscent of a medical consultation room. The person sitting down is then asked a series of questions on a screen in front of them, which they can answer using a keyboard. These messages borrow from the language used in relaxation and personal development techniques, inviting concentration and letting go, as well as from the methods of physical examination and psychological evaluation. In addition, certain phrases and images are taken from the exposed participant's posts. At the end of the exchange, the last answer will actually be included in the comments of one of her posts, creating a kind of disjointed and impossible conversation between strangers. Here we find characteristic elements of the artist's work, such as the blurring between the intimate and the public caused by technological irruptions (LAUREN, 2017), the critical irony born of the contrast between the cool environments of the net economy and their dystopian dimension, as well as fictitious protocols that evoke, by means of the absurd, those to which we submit ourselves daily.
Lauren Lee McCarthy is an LA-based artist examining social relationships in the midst of surveillance, automation, and algorithmic living. She is the creator of p5.js, an open source JavaScript platform that aims to make creative expression and coding on the web accessible and inclusive for artists, designers, educators, and beginners.
She is Co-Director of the Processing Foundation, a non-profit whose mission is to promote software literacy within the visual arts, and visual literacy within technology-related fields—and to make these fields accessible to diverse communities. She is an Associate Professor at UCLA Design Media Arts.
Lauren's work has been exhibited internationally, at places such as Ars Electronica, Barbican Centre, Fotomuseum Winterthur, SIGGRAPH, IDFA DocLab, Science Gallery Dublin, Seoul Museum of Art, and the Japan Media Arts Festival. She's a 2019 Creative Capital Grantee, ZERO1 Arts Incubator Resident, and has previously held residencies with Sundance New Frontiers, Eyebeam, CMU STUDIO for Creative Inquiry, Autodesk, NYU ITP, and Ars Electronica, among others. She's the recipient of grants from the Knight Foundation, the Online News Association, Mozilla Foundation, Google AMI, Sundance Institute New Frontiers, Turner Broadcasting, and Rhizome. She holds an MFA from UCLA and a BS Computer Science and BS Art and Design from MIT.