The 20th edition of the Biennale Internationale «Petit Format de Papier», organized by the Musée du Petit Format in Nismes (Belgium) takes place between September 2020 and April 2021 as a traveling group exhibition featuring the work of 153 artists in four art spaces: MPFAC / CC Action Sud (Nismes), Espace Beau Site (Arlon), WARP (Sint-Niklaas), and Le Grand Curtius (Liège).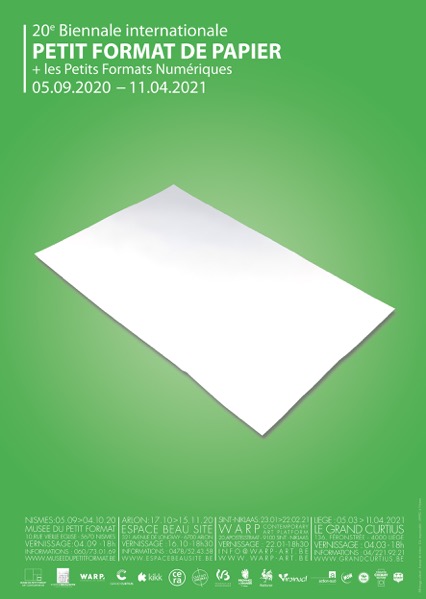 In this edition, the selection of works of art on paper in a small format is complemented with a parallel exhibition dedicated to "Small Digital Formats" conceived by Marie du Chastel from KIKK (Namur) that presents a selection of works created with digital media.
Following the recommendation of du Chastel, the museum invited me to contribute a text to the catalogue about small formats and digital media. I wrote the text as a footnote to a single sentence that can be considered as the title of the article. Below is an excerpt:
All art is small format art on your smartphone*
*Since the 1980s, the production of large-scale contemporary art has been driven by the need to attract the attention of a global audience and compete with other cultural and creative industries (Van den Berg and Pasero, 2012, p.158-163). At the same time, the fast-paced development of the computer industry has been characterized by the progressive miniaturization of devices, leading to a paradoxical situation: currently, most of the art that reaches the public at large is experienced through the 6 to 12-inch screens of their smartphones and tablets. In a way, digital distribution turns all art into small format art, but there are deeper are more interesting connections between art in traditional small formats (such as works on paper) and digital art. We will consider three of them: distribution, affordability, and closeness.
The whole text can be found in the catalogue published by Musée du Petit Format. More information