SEMINARIO INTERNACIONAL: "ARTE URBANO Y TECNOSFERA"
Interacciones del arte y los new media en el entorno urbano
April 2nd, 2019
Facultad de Bellas Artes de la Universidad Complutense, Madrid
I participated in this seminar at one of the most prestigious universities in Spain following an invitation by Prof. Santiago Morilla, whose research focuses on urban art and locative media. My presentation focused on artistic projects aimed at "hacking the algorithmic city," and introduced an historical perspective of the interactions between artists and the urban space. A video documenting the talk will be available soon.
The seminar will continue with a second edition at Université de Rennes in October 2019 and the publication of a book collecting articles by different authors.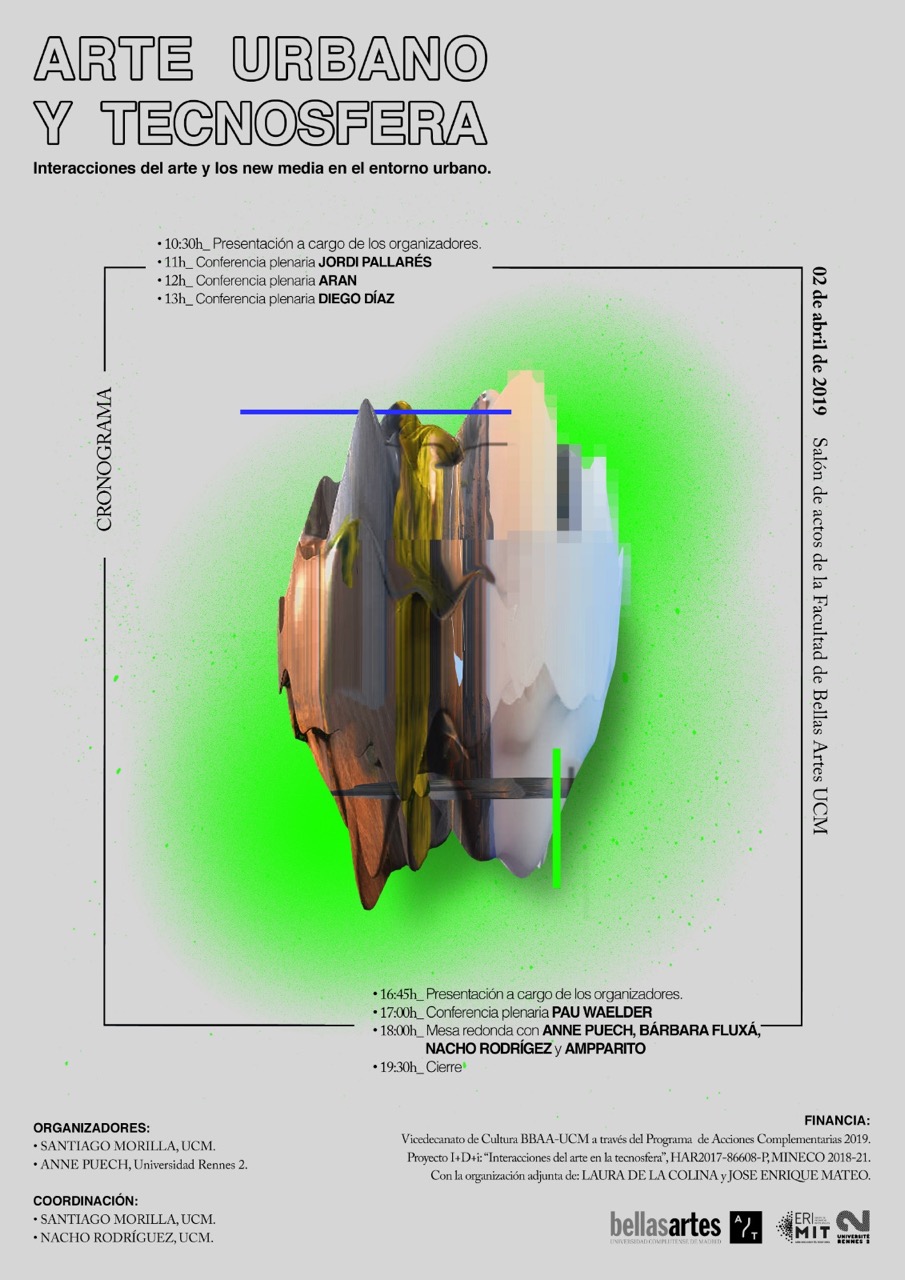 SEMINAR DESCRIPTION
More and more urban artists are using New Media, and specifically the Locative Media, as a complement and interactive expansion that is situated at the intersection between the street and the network, bringing out the interaction of the flat surfaces of the urban space in order to expand it and resignify it in the multi-dimension of the data space. In this international seminar, we propose a comparative approach with special attention to the interaction that artists develop in the hybrid space of the city, in which the virtual space composed of geolocalized data has spread as a continuation of the physical world in which everyday life and artistic practice itself take place. This seminar aims to position itself at the intersection between the practices of Urban Art, the Technosphere, and artistic practice as Research.
CHRONOGRAM
10:30h_ Presentation by the organizers.
11:00h_ Conference JORDI PALLARÉS
12:00h_ ARAN Conference
13:00h_ DIEGO DÍAZ Conference
16:45h_ Presentation by the organizers.
17:00h_ PAU WAELDER Conference
18:00h_ Round table Anne Puech + Bárbara Fluxá + Nacho Rodríguez + Ampparito
19:30h_ Closure
SEMINAR ORGANISERS
ANNE PUECH, from the University of Rennes 2 (France).
SANTIAGO MORILLA, UCM
For information can be found here